What we offer
Welcome to MiniCabRide
MiniCabRide offer a unique transport solution for individual and locals In the United Kingdom, book a private MiniCabRide transfer from anywhere in the UK. Our minicab network is exclusively made up of highly experienced and professional drivers. All of our vehicles are clean and comfortable. If you are unable to approach reliable airport MiniCabRide services, it would not be possible to get 100% satisfaction. so, it is very important to look forward to the licensed London airport minicab and private hire services like MiniCabRide that would definitely make your expectations and serve you in the best manner. MiniCabRide offers a fixed fare policy on all airport pick-ups and drop-offs. We monitor flight times to ensure you are met at the correct time to avoid waiting costs and excessive parking charges. When you book a London airport minicab with us, we are 50% cheapest than other companies. MiniCabRide is available 24/7 365 days a year. We tailor our services to meet any of your needs with any type of private hire journey. when you Book a Cheapest London Airport Minicab for your Airport Transfer (Heathrow, Gatwick, Stansted, Luton, Stansted, and London City Airport), Seaport transfer, Station transfer, and Local transfer, Rest will leave on Our very Professional Team We will send your all your booking details on your mail and Phone. We pride ourselves on providing the High quality Of London Airport Minicab Transfer Services; and with our Experienced and fully qualified drivers and great Fleet selections, all you have to do is sit back, relax, and enjoy the Journey. At MiniCabRide, we know how important it is to keep you and your personal belongings safe. That is why we have A Wide range of fleets to accommodate everyone. If you are traveling in a group of 4 people or more, we have stylish Cars to take you anywhere in the United Kingdom,
Main features
Our Benefits
The fixed fare is set in every Minicabmeter as the main tariff.
We guarantee fixed price and you should not pay tips.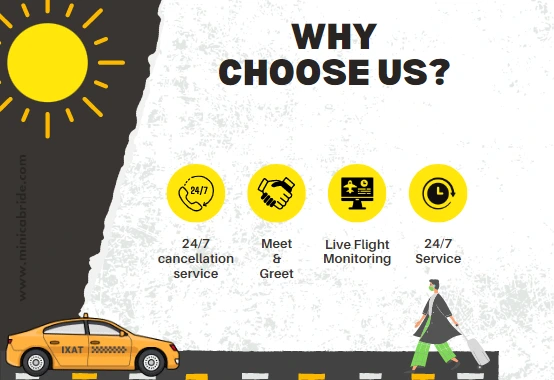 Book A Private hire & Minicabs With Child Booster Seats, Toddler Baby Seat, Infant Seat  for any type of transfer.
We have a lot of standing customers and high ratings.
Who We Are
Most Trusted Private Hire Company in UK
At Minicab Ride we pride ourselves in delivering extensive Airport, Seaport & Train Station Transfer services to fulfill all of your needs with first-rate customer care Around UK. Our goal is to make your travels safe, effortless and on schedule.Our Professional Drivers have with good knowledge of All London Roads & Destination to ensure you reach your destination as quickly as possible. We know London like the back of our own Mind. Our aim to make every journey a pleasant experience for our customers. You also do not have to worry about booking your London Airport Minicab with us online. This is because you just need to enter certain details and then book it for your travel. We have also got different types of payment options like Master Card, VISA, Maestro, etc for which you never have to find any sort of problem at all.
Car Classes and rates
Our Fleet
SAFER RIDES WITH MINICABRID
Download Our App
Upload our own MiniCabRide & Private hire application to your smartphone and discover just how easy booking a Minicab can be. With this application, you can order a Minicab very quickly from London Airport. A Trip is more than just a Trip. It's a gateway to opportunities and jobs. A connection to the community. And access to Rides like airports, seaports, stations, hotels, shopping centers, and local places. Our Team initiative makes rides more accessible for millions and helps bring communities even closer. We believe in providing our customers a chance to travel in the best and most comfortable Transportation Services That too as we are available 24X7.
Our app will help you! Order a London Airport Minicab Transfer online without calls and waiting. We can help you to save time and money. Reliable & Affordable London Minicab on demand Pre-book now. No matter your destination, we'll get you where you need to go…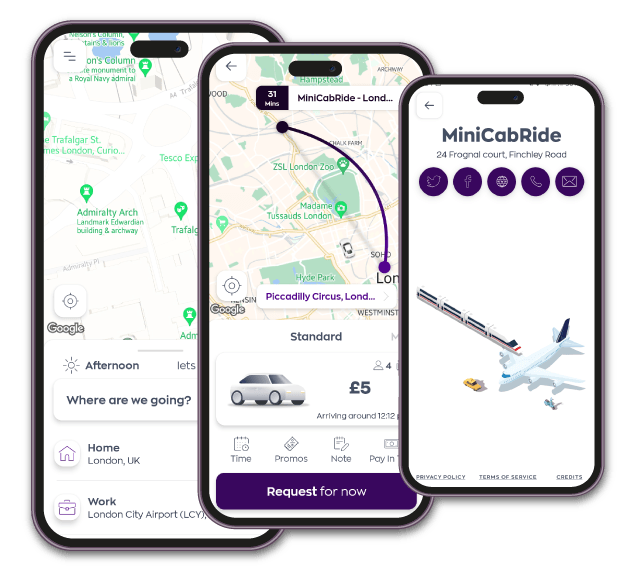 Ride With Minicabride
OUR NEW EV VEHICLE ARRIVAL
Our road to a zero-emissions future has begun In London, with the roll out of our new electric vehicles. Drive a 100% electric and fully equipped car. Our All New Tesla Electric Vehicle is not only good for London's environment, but has all the comfort, style and safety you associate with MiniCabRide .Now you can rent your electric vehicle with MiniCabRide and start enjoying Eco Sustainable Driving. Our Affordable Electric vehicle car that will make your city more sustainable.Our All London Airport Transfer Fleet meets the strictest emission standards in the United Kingdom. Through the use of the latest electric drivetrain technology and advanced materials, Our Main Aim to be a zero emissions Free Environmental with you. If you need it – our team is available 24/7 for any questions or safety concern you might have,We believe in providing our customers a chance to travel in the best and comfortable ride. Not only our London Airport Minicab Transfers drivers are the best but our London Minicabs are also well maintained and serviced on time thus making sure that your ride is comfortable. Our fares are also low as compared to local service providers thus giving us leverage over others. That too as we are available for 24X7, you can rest assured about the availability of our service.
Your Frequently Asked Question & Answers
FAQs- Frequently Asked Questions
Find out all the information which you Are looking, Check out the frequently asked questions that our Customers make on a daily basis before to book a private transfer with us.
What Is Minicab In London?
In London, Minicab is a Licensed Car or private hire with a driver, which can be a saloon for carrying four passengers, and MPVs that can take between 5 and 14 passengers These may not hail in London Local street. You can hire only on a Pre Booked as per your Requirement. While the fares are generally Cheaper and reasonable, don't have a meter, and are Operated by London's licensed minicab Company, you can ask them for cost or get a quote for your trip.
Why Should You Hire Our London Minicab?
Minicabride Ltd offers a fixed price to and from any UK destination starting from £20. Our easy booking system allows you to obtain an immediate quote any time of the day or night. Our free meet and greet Services at the Airport of your choice include our service. You can expect a professional and polite driver. We are up to 30% cheaper than other companies.
Can I transfer airports to London?
Whatever Airports in London You are heading to and from, we cover London All Airports, Heathrow, Gatwick, Stansted, Southend, and Luton Airport. You can rely on our London Airport Transfer service to pick you up wherever you are in London and get you to the Airport in good time for your flight.
How long does it take to get from London city to airport?
Travel Distance and Average time between London To All London Airports:
| | | |
| --- | --- | --- |
| Getting To and From London | Distance | Time |
| Central London to Southend Airport | 41.3 MILES | 1 hr 13 Minute |
| Central London to Gatwick Airport | 27.6 MILES | 1 hr 18 Minute |
| Central London to Luton Airport | 34.6  MILES | 1 hr 04 Minute |
| Central London to Heathrow Airport | 15.6 MILES | 55 Min. To 1 hour |
| Central London to Stansted Airport | 38.6 MILES | 55 Min. To 1 hour |
How Do You Get a Minicab In London?
London's Licensed Minicabs can be Located in prominent places, including many train Stations, airports, and Tube and bus stations. They can hire Only Pre-booked through the Online Website, office, and Phone. London Minicabs covers a wide range of Transportation services, from local minicab companies to chauffeur-driven Cars. Reputable, licensed minicab companies Like Minicabride Ltd can offer a cheaper alternative to a black cab. Most of the hotels have a list of reputable, licensed minicab operators. And You can Find Minicab Offices on most high streets and Outside of Airport's Terminal.
Is MiniCabRide Cheaper Than Uber?
Yes, MiniCabRide is A Cheapest London Minicab And Private Hire Company; You Don't need to pay us any extra amount in whatever Situation. We are A Fixed Price Company, while Uber can be Costly more than 2.5 times in a Peak Hour cause of surge Pricing.
How Much Are Minicabs To London?
London Minicabs Fare varies Depending on where you travel. This is usually the 'minimum charge' for a Minicab, even if you only need to travel a couple of yards. While it varies throughout the UK, Minicabs are likely to cost between £1.20 to £3 per mile (depending on location, day of the week, time of day, etc.
Are You a Licensed, Private Operator?
Yes, we are a Licensed Minicab operator provided by TfL (Transport of London).
How do you get from one Airport to another in London?
.if you are going to Fly out from one Airport to another in London. MinicabRide Offers the fastest and most Reasonable London Airport transfer Services to and From London at All 6 Airports, Heathrow, Gatwick, Luton, London City, Stansted, and Southend Airport, 24/7 days per week. We have a wide range of Vehicles which can full fill your Requirement.
Save 10% & Hire Reliable Minicabs For Your Business
If you are interested in setting up business accounts with MiniCabRide, please give us a call, send us an email at sales@minicabride.com, or set up Your Business Account Online and save up 10% With us.