Harwich Cruise Port is a North Sea seaport in Essex, England, and one of the Haven ports. It lies on the south bank of the River Stour, one mile upstream from the town of Harwich, opposite the Port of Felixstowe. The port was formerly known as Parkeston Quay. Whether you are a tourist or a resident, you will always love to take a day out to experience the serene water, scintillating music, and exotic food inside the cruise ship. Although the journey inside sounds exciting, traveling to these ports might be easy if you hire a Professional Harwich Port taxi Services. Welcome to MiniCabRide, Harwich Port's premier taxi service! We provide affordable rides to our customers and strive to make their experience as comfortable and safe as possible. With a fleet of experienced drivers and modern vehicles, we're sure to get you to your destination quickly and safely. Our friendly customer service team is always available to answer questions and take your bookings. We look forward to providing you with an excellent service and being your go-to taxi company. Thank you for choosing MiniCabRide!
Hire Best Harwich Port Taxi transfer Company 
MiniCabRide offers Affordable Harwich Cruise Port Taxi Services which is way better than public transport. All you have to do is Book Online and select one of the cheapest cruise transfer services for your destination. Moreover, you can select Our Any Fleet from their list of Luxury cars, Hatchbacks, Sedans, Minibuses, etc. as per your mood and need. Our Fleets are all well insured, cleaned, and have the latest gadgets and tools to keep you entertained and safe till you reach your port. Our Professional Driver has always been rated to be extremely polite, helpful and well versed with the road which is the biggest advantage over public transports. After all, a professional driver will always relieve us from any kind of travel tension and let us focus on London's picturesque.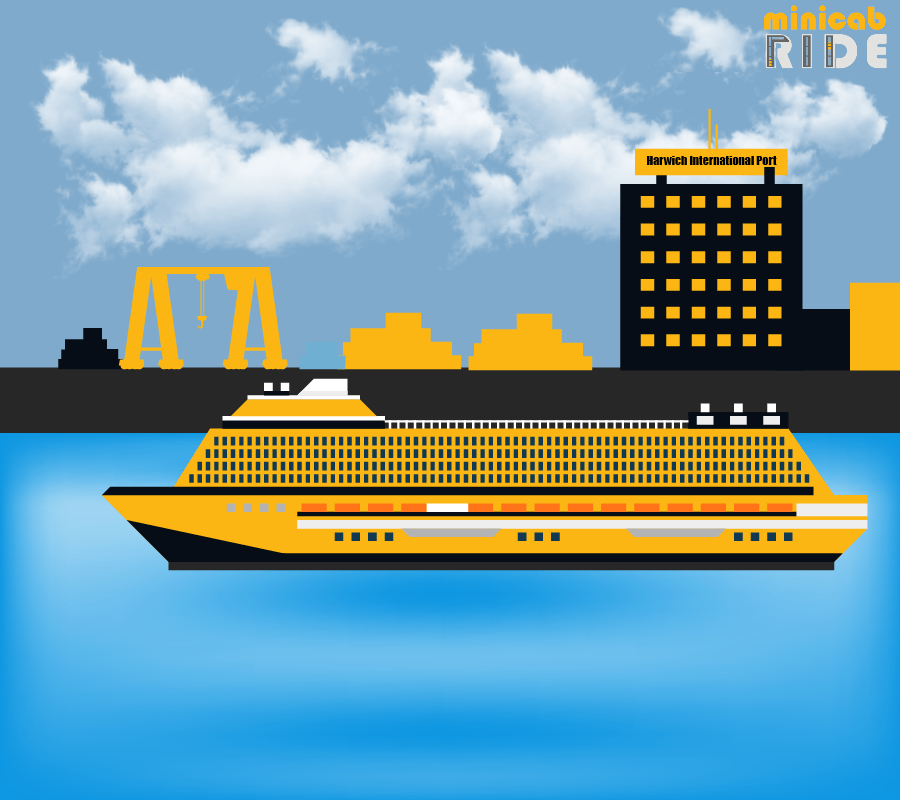 Our Easy Online Booking System
Why You Should Hire Harwich Port Taxi With us?
Are you planning a trip to Harwich Port and looking for a reliable and comfortable way to get around? Look no further than MiniCabRide, a leading taxi company in the area. With our wide range of vehicles and experienced drivers, we offer an excellent service to meet all your transportation needs.
One of the main benefits of choosing MiniCabRide is the variety of vehicles we have available. Whether you are travelling alone or with a group, we have a taxi to suit your needs. Our fleet includes standard cars, minivans and even minibuses, so we can accommodate groups of any size. All our vehicles are well-maintained and regularly serviced to ensure they are always in top condition.
Another key advantage of MiniCabRide is our team of professional drivers. They are all fully licensed and have years of experience driving in the Harwich Port area. They know the best routes to take to get you to your destination quickly and safely, and they are always polite and courteous. With our drivers, you can sit back and relax, safe in the knowledge that you are in good hands.
So, what are you waiting for? Book our Harwich Port Taxi transfer now and enjoy the ride of our new amazing and clean car with a professional driver available, with a safety feature standard. We deliver a good service for your satisfaction. Because we aim to provide the best Taxi transfer in the United Kingdom that ensures you give the best deal each time and every time. For any queries and questions in these regards, kindly contact us. We are happy to help!
How Much Will A Taxi Cost From Harwich Cruise Port To Other Airport?
Here is the list of our estimated prices for Taxi From Harwich Cruise Port To Other Airports*
*The aforementioned  Harwich Cruise Port Minicab prices are approximations from December 2017 onwards. MiniCabRide fares depend upon the route, distance rate allocated by the MiniCabRide, and the total time of the journey. For further queries, please do not hesitate to contact us.
*Every Seaport pickup to this Seaport is subject to the seaport pickup parking fee of £5 to cover up to 30 minutes of car parking which will be added to the fare automatically by the website.
Welcome To Us
We created our Minicab to help you to find the most dependable and highest quality minicab services, anytime and anywhere. All our drivers are uniformed and fully licensed.
What are you waiting for ?