Hire Taxi To/ From Weymouth Harbour Port -Save Up To 40 % With us
Weymouth Harbour Port is situated on a sheltered bay at the mouth of the River Wey on the English Channel coast in England. And it is 8.5 miles south of Dorchester and 6.3 north of the Isle of Portland. From Weymouth, travellers can reach destinations in the Channel Islands and France: ferries regularly run to St Helier, Jersey, and St Peter Port, Guernsey, as well as St Malo, in Brittany (via Guernsey). Weymouth has excellent transport links, so booking a Taxi with MiniCabRide is the ideal way to deal with that important first leg of your trip: getting to the ferry terminal!
Getting to and from Weymouth Harbour Port
Eight miles south of Dorchester, Weymouth is just off the A354. Other A-roads are within easy reach, and the port is a little over an hour's drive from Junction 25 of the M5 at Taunton.  The drivers at MiniCabRide all have excellent knowledge of the network of roads in Dorset and the whole of the West Country, so you can be assured of a hassle-free journey to or from Weymouth when you choose us. Whether you've been to Channel Islands for business or pleasure, you might need to make a connection as soon as your ferry pulls into Weymouth. If so, MiniCabRide can help you with your Weymouth ferry transfer to and From airport transfer, Station, or Local Transfer. ! We will take you from the ferry terminal to your train, bus, or plane – and we'll get you there on time.
Why Choose Weymouth Harbour Port Taxi transfer With MiniCabRide?
One of the cheapest Taxi hires For Weymouth Harbour Port Taxi transfer from anywhere in UK.
Drivers are the key strength of the service as they are well-trained and well-vetted to ensure a safer and personalized experience for every customer.
Free 30 min wait time is offered under each Taxi transfer which is one of the highest as per industry standards.
We Have Large No. of  Electrical and Non Electrical Fields.  With Baby Seat Car  Availability.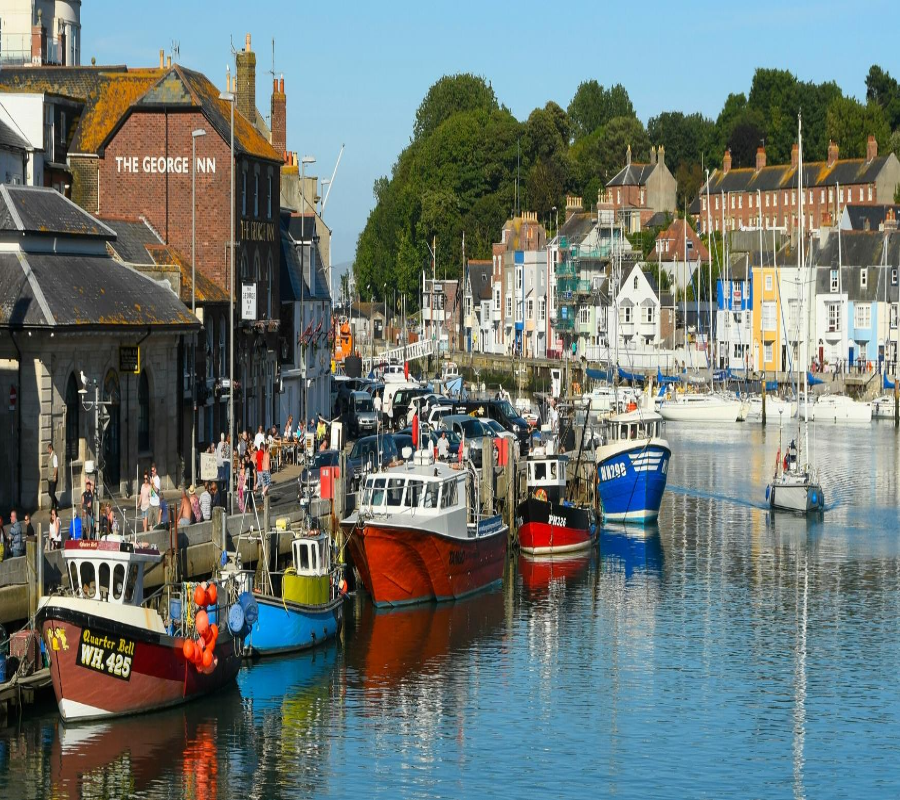 Our Easy Online Booking System
How Much Will A Taxi Cost From Weymouth Harbour Port To Other Airport?
Here is the list of our estimated prices for Taxi to/From Weymouth Harbour Port To Other Airports*
*The aforementioned Weymouth Harbour Port Taxi prices are approximations from December 2017 onwards. Taxi fares depend upon the route, distance rate allocated by the Taxi Company,  the total time of the journey. For further queries please do not hesitate to contact us.
*Every Seaport pickup to this Seaport is subject to the seaport pickup parking fee of £5 to cover up to 30 minutes of car parking which will be added to the fare automatically by the website.
How to book a Weymouth Harbour Port Taxi Transfer from MiniCabRide?
Keeping in line with UK's best Taxi philosophy of offering a hassle-free experience to every customer, we have made sure the booking experience should reflect the same. We offer multiple options through which a customer can Weymouth Harbour Port Taxi transfers so that anybody can do the same from the comfort of their home or office, the various booking channels are :
One can book our service by giving a call on 00442070050090
Emailing us on info@minicabride.com with details of the pickup point and your contact details so that the team can make the necessary arrangement.
If one is comfortable doing online, can visit us on Minicabride.com or download our app from the play store or apple app store
Weymouth Harbour Port Map
Welcome To Us
We created our Taxi to help you to find the most dependable and highest quality Taxi services, anytime and anywhere. All our drivers are uniformed and fully licensed.
What are you waiting for ?